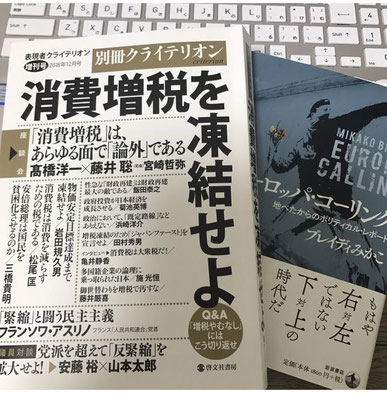 Postscript(2019/09/15)
In the past few days,  The Criterion magazine has been criticized by the public overseas for its history revisionists' view on the past Japanese aggressive World War II.
So I would like to write my current opinion about my blog post, because it introduced The Criterion's separate booklet titled "Suspend the Consumption Tax Hike" .
First of all, the booklet thoroughly featured the fact that "the consumption tax hike just benefits the ruling class and causes fatal damage to the ordinary people living in Japan".
That is why I introduced the booklet in my blog.
 I praise the booklet highly because it helps the people find there is such a perspective "upper vs lower".  Today we the Japanese are under the situation where there are many "conservative" medias trying to divide the people and benefiting the ruling class in Japan.
In addition, I know that the editor-in-chief has been trying to create a movement against neo-liberalism , which is very inconvenient for the ruling class people.
Needless to say, I, as a rigid leftist, have some disagreements with him on historical perception and other issues.
However, I still respect him because, to stand for his belief, he resigned from the cabinet adviser, appeared in the Japanese Communist Party's newspaper, and criticizes the cabinet's policies and works with the left scholars.
Accordingly, I believe it is better for me to set aside such political differences and work with him in order to achieve my goal, which is to weaken the power of the ruling class.
Finally, I don't like to hide my belief nor make excuses, so I will leave this post for the time being.
But I seek international solidarity between domestic and foreign anti-austerity progressives, and I need to hear their(your) opinions sincerely.
And I am sorry for the current situation in Japan allowing ethnic discrimination and historical revisionism to spread.
I am determined to make a pledge to change this situation in Japan with colleagues from various different areas. Thank you truly for reading my blog.

(in Japanese)
追記(2019/09/15)

ここ数日、雑誌「クライテリオン」が、その歴史修正主義的傾向に対して海外から批判を受けています。このブログ記事は、「クライテリオン」の別冊「消費税増税を凍結せよ」を紹介したものですので、この記事について、私の今の考えを書くことにしました。
まずはじめに、この別冊クライテリオンは、「消費税増税が支配層を利するものであり、また、この国に生きる人たちに致命的なダメージを与える」という事実を徹底して暴くというものでしたので、私はこの点について紹介しました。
私は別冊クライテリオンが、「上と下の対立」という視点を得るのに資すると評価しています。今の日本の状況は、他に「保守的な」メディアがたくさんあって、それらが人々を分断して、支配階級に与していますから。

そしてまた、クライテリオンの発行責任者は、新自由主義と対峙する動きを作り出そうと努力していて、それは支配層に不都合なものです。
言うまでもなく、私のような厳格な左派にとって、その方とは、歴史認識やその他の点で、大きな違いがあります。
ですが、私はそれでもこの方に敬意を持っています。この方は、自分の信念に基づいて、内閣府参与を辞め、共産党の機関紙に登場し、今の政権の政策を批判して、左派の学者たちと協力しているからです。
したがって、私はこの違いは置いておいて、「上層」の力を弱めるために、この方と協力することが妥当だと考えています。
最後に、私は考えを隠したり言い訳をするのは好きでないので、このブログは今のところ残そうと思います。
ですが、私は国内外の反緊縮左派の方々との国際連帯を強く希望しており、それらの方々(あなた方)のご意見を誠実に聞く必要があると考えています。
そして、民族差別と歴史修正主義の容認を許してしまっている現在の日本の状況を申し訳なく思います。この状況を幅広い仲間たちと共に変えて行くことを誓います。読んでくださりありがとうございました。


このブログ記事は、2018年12月5日にアップした「消費増税の凍結は可能だ」の英訳記事(リニューアル版)です。https://www.oishiakiko.net/20181205europecalling/

Now is the time of "Upper vs. Lower", not "Right vs. Left"


This bold phrase written across the front cover of Brady Mikako's new work "Europe Calling" beautifully illustrates the ever worsening societal divide. Not only the ever present disconnect of the political spectrum, but the far more harmful separation of class.  Mikako's book attempts to document the development of the european anti-austerity movement; and lends fantastic insights which can be adopted here in Japan.
Despite the desire of many including myself to launch a movement fighting austerity for a long time, Japanese government has continued its policy of decreased spending and inflated taxes. However, the Japanese anti-austerity movement has emerged and is finally garnering true support.
The movement, self evidently opposed to neoliberalism that instigates austerity, consumption tax increases, social reform, deregulation, and privatization, has committed itself to protesting and dismantling these dangerous policies. And as stated in Mikako's book this promise has been supported internationally and on both sides of the political divide.
As such, allow me to introduce a new publication "The Criterion: Suspend the Consumption Tax Hike" as an additional volume, published in December 2018.
This magazine was compiled by Prof. Satoshi Fujii, a professor at Kyoto University and a former Special Advisor to the Cabinet of Japan.  Along with many individuals across the political spectrum he has created the magazine as a place to discuss a wide range of political topics.


All contributors are unified in our belief that:
• Consumption tax is used to compensate corporate tax cuts.
• This economic policy favours corporations over ordinary people.
• This policy has continued for decades. It is ineffective and in some cases deeply harmful.
• The additional consumption tax increase is the worst in economic countermeasures, and it is nothing but an additional mistake.
We could say that the policy contributed in not only increasing inequality but deepening class division, - division between capitalists and citizens/workers.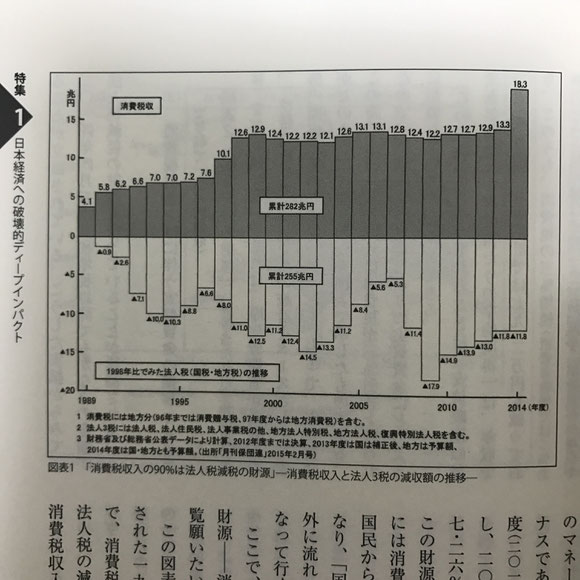 The government and ruling parties repeatedly said that consumption tax is used for social security.  But, according to the research result, this revenue is used primarily as subsidizing corporate tax cuts. If the Japanese public was aware of this, it would spark major protest activities such as the yellow vest protests in France.  These facts may eventually lead to a policy shift and finally a stop to increased consumption tax. 
In the current situation however, a consumption tax hike seems to be inevitable, and "social reforms" such as the neoliberal privatization of water supply and increase of foreign worker's intake is continuing. 
The journalists working on the magazine are unwavering in their view that such reforms are outdated, and they will achieve a victory through truth and reason.  The Japanse public deserve the all facts, and with this the spirit of the vox populi can echo through its pages. 
Mr. Taro Yamamoto, a brilliant young politician has recently been causing a storm in National politics.
He is the only member of the House of Councillors brave enough to stand up to the establishment and employ Ox walk tactics to derail motions that would hurt the majority of Japanese people.
Mr. Yamamoto is as ambitions as he is fearless, he constantly risks his position not voting in line with standard political procedure, and has recently stated his intention to run for Prime Minister.
This boldness and honesty are a breath of fresh air in the stagnant pool of contemporary Japanese politics. Personally, he can count on my vote.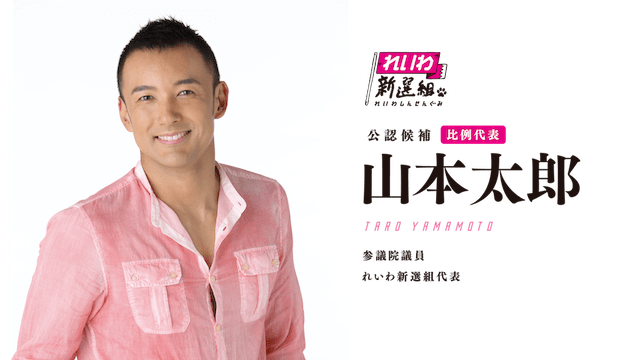 It is no longer enough to discuss these problems in the abstract, we can no longer silently analyze political reports and read economic textbooks dealing in hypotheticals. Now is the time to act.
I can see many people reaching their hand across the aisle to improve the situation for those struggling the most in Japanese society. Japan has and always will be stronger as a unified people, but each individual must strive to achieve an ideal society that all of us deserve.  
Every step forward is counted, even the smallest ones.

This text was written by Akiko Oishi in Japanese and translated